Fun and challenging adventures together!
Skypark is the largest and coolest adventure park in Stockholm
It's a fun and exciting activity up in the air between the trees.
You move between platforms along different courses on various heights and with challenging obstacles such as balancing, climbing and ziplines.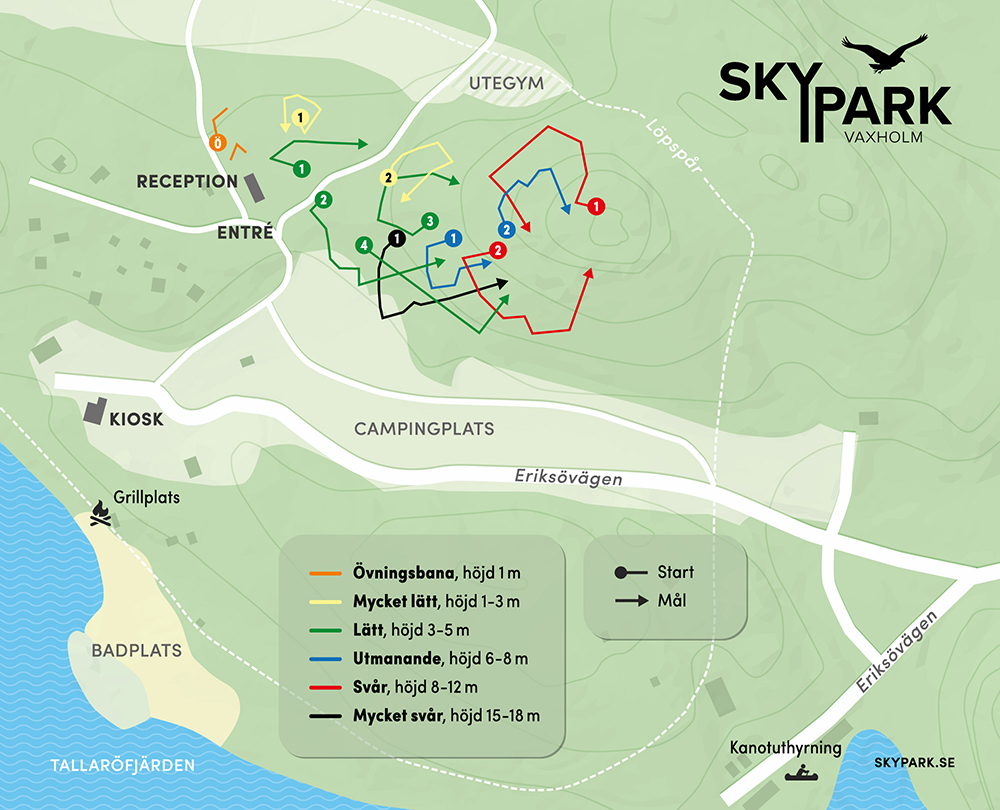 We have adventure courses for all ages from 5 years and up
The paths are graded by colour codes. Yellow, Green, Blue, Red and Black, where yellow is easy and and low height, about 1-2 meters, and Black is very difficult and at about 15 meters height up in the air.
Children younger than 11 years must have a climbing adult with them in the courses, maximum 3 children/adult.
Safety equipment and clothing 
All security equipment is included in the booking; harness, helmet and fuse equipment.
NOTE! Own harness or safety equipment must not be used in the park.
We suggest sportswear or similar comfortable clothes and sneakers on your feet. It's nice to be in the park even if it rains or blows a little, just bring a wind or rain jacket.
There is no bad weather, only bad clothes.
Thin gloves might be comfortable. Bring own or buy in our reception.
Even on hot days, it is fun to climb in the park. There is quite a bit of shade among the trees and sometimes it could be a nice breeze up in the courses.

Welcome to a real adventure!
Eriksö area offers outdoor activities and recreation
 At Eriksö on Vaxön there are many opportunities for outdoor activities and recreation. In addition to adventure climbing in Skypark, there is a fantastic sandy beach, canoe rental, mini golf, playground, SUPs, exercise tracks, a nice outdoor space and even free fishing!.
 Eriksö is a really nice destination for all ages! Bring the whole family, relatives and friends and spend a day in nature with activities.